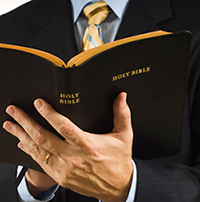 The true preacher has often to pass through severe discipline to prepare him for his work.

Men cannot be trained for the pulpit by unclouded happiness, by unbroken prosperity. Sorrow and peril impart to the preacher the most beautiful and effective elements of his character. They render him pathetic, capable of sympathy, which is so welcome to the down trodden and oppressed. This severe discipline also makes the preacher morally strong, able to overcome self, to enter upon arduous labour, and to contend courageously with antagonistic powers.
Scientific instruction is useful to the minister of Divine truth, and a University training may be advantageous, but, after all, real pulpit power is only gained by the bitter experiences of life, and by contact with the stern realities of duty.