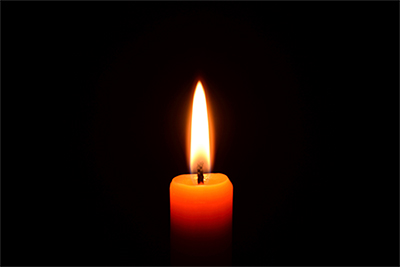 C.H. Spurgeon
During an address that Charles Haddon Spurgeon was giving to some of his students in the Pastor's College he was urging on them the value of "illustration." One of the students apparently remarked how difficult it was to find good illustrations for one's sermon, to which Spurgeon replied "… … if your minds were thoroughly aroused, and yet you could see nothing else in the world but a single tallow candle, you might find enough illustration in that luminary to last you for six months". This remark was met with some doubtful expressions, Spurgeon tells us, and so, to prove the validity of his words he produced his famous "sermon in Candles" which we hope to adapt for this magazine over the next six editions.
I am not an adept at lecturing, and when I take to it under constraint, I either signally fail in it, or else the successful production is a sermon in disguise. You cannot drive out nature by a command: the old pulpit hand must preach, even though you bid him do somewhat else. I have preached now for so many years that use is second nature; and a lecture, a speech, and address, and I fear even a conversation, all have a tendency to mould themselves sermon-fashion. This lecture has become a cairn, upon which stone after stone has been thrown. To use a figure from the subject itself – my candles have been dipped again and again, and each time they have grown in bulk, till I feel that they are now ready to go from the makers to the consumers.
Candles were far more familiar objects in my boyhood than in these days of gas and electricity. In my time the greatest of wonders was a Lucifer-match. We had practical fun with candles too; for we would scoop out a turnip, cut eyes and a nose in the rind, and then put a candle inside. This could be judiciously used to amuse, but it might also be injudiciously tuned to purposes of alarming youngsters and greenhorns who ran away, under the apprehension that a ghost was visible. Other things besides turnips can be used to frighten foolish people; but it is a shame to use THE LIGHT OF TRUTH with such a design.
By the way, a candle blown out does not yield the most delicate of perfumes. If the light of professors of religion is blown out, the result is most unsavoury. How well it is for us that we have to deal with One of whom it is written "A smoking flax will he not quench"! Even when faith is so low that we are rather an offence than an illumination, He will not quench it, so tender is His love.
Solomon spoke of a candle when he said, "The spirit of man is as the candle of the Lord, searching all the inward parts of the belly". Did he not refer to conscience? Did he not mean that conscience is in some respects a divine light – "The candle of the Lord?" and in all respects a discovering light – searching all the inward parts? Take care that you never trifle with this candle. A loss of light in the conscience means decrease of light for our whole manhood. I am afraid that conscience in may persons has become no better than an unkindled candle, not giving light, nor even making darkness visible. I have heard of a man who said "Conscience! Conscience! I have plenty of conscience," "Yes," said one, "and it is as good as new, for I have never known you to use it". In that case it was a candle unlightened, and as the old rhyme has it: –
"A candle that affords no light,
What profit it by day or night?"
God grant that we may never do violence to our conscience even in the least degree; for this is to quench our own light! On one occasion, having a candle on each side of me in a small pulpit, I was somewhat vigorous, and dashed one of the luminaries from its place. It fell on the bald head of a friend below, who looked up with an expression which I can see at this moment, and it makes me smile still. I took no more notice of the accident than to weave it into what I was saying: and I believe most of my hearers considered it to be a striking practical illustration of the remark which accompanied it, "How soon is the glory of life dashed down!"
"The Lord will light my candle so, that it shall shine full bright …The Lord my God will also make my darkness to be light" (Psalm 18:28 from the Metrical Psalms).
From The Wicket Gate Magazine, published in the UK, used with permission.