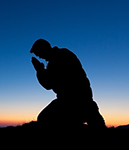 Johnny C. Serafini
The Spirit's Help in the Matter or Content of Our Prayers
"We know not what we should pray for" (Rom. 8:26). This ignorance extends to the words we should use, the petitions we should present, the petitions we should refrain from presenting—indeed, the thoughts we should think. Thus we need help, and divine help at that. The traditions of men and the wisdom of this world will never inform us sufficiently. We need the Spirit to give us the mind of Christ (1 Cor. 2:14 –16). Traill wrote, "The voice of the Spirit is the best thing in our prayer; it is that God hears and regards."13 David Clarkson (1622-1686) described the Spirit's help as simply this: "to pray in us, i.e., to make our prayers." He continued, "He, as it were, writes our petitions in the heart, we offer them; he indites [composes] a good matter, we express it. That prayer which we are to believe will be accepted, is the work of the Holy Ghost; it is his voice, motion, operation, and so his prayer. Therefore, when we pray he is said to pray, and our groans are called his." 14
Our human condition renders us, Boston said, "apt, instead of bread, to ask a stone; instead of a fish, a scorpion; to pray for what would do us ill, and against what is for our good."15 He elaborated that 1) we might pray against God's mercy; 2) we might pray for that which could hurt us; 3) we might pray for that which would feed our sinful desires; 4) we might not pray for what we truly need; 5) we might forget what we should pray for; and simply, 6) we might not pray according to God's will. Boston concluded, "There is so much remains of corruption in the best of us, that it is hard even in our prayers to keep within the compass of what is agreeable to his will."16 And in the same vein, he said, "We are so weak, that in God's dispensations many times we take our friends for our foes, and call what is for our good, evil, as Jacob did when he said, 'All these things are against me.'"17 Therefore we need the Holy Spirit to inform our minds so that we will know what to pray for.
Informing Our Prayers with the Knowledge of God and Christ
Bunyan spoke of our ignorance of the "Object to whom we pray," as well as the "Medium by, or through whom we pray," and said, "None of these things know we, but by the help of the Spirit."18 He referred, of course, to our ignorance of God the Father as the object of prayer, the One to whom we pray, and Christ as the medium of prayer, the One by whom or through whom we pray. The Spirit reveals both the Father and the Son to us, so that we pray to the true God. Bunyan explained, "Without the Spirit, man is so infirm, that he cannot with all other means whatsoever, be enabled to think one right saving thought of God, of Christ, or of his blessed things; and therefore he saith of the wicked, God is not in all their thoughts, Psalm 10:4."19
Only with a right view of the One with whom we converse in prayer will the heart be in the right frame for prayer. Owen wrote that the "Holy Spirit gives the soul of a believer a delight in God as the object of prayer" and explained, "without it ordinarily the duty is not accepted with God, and is a barren, burdensome task unto them by whom it is performed."20
Boston wrote that a right view of God gives the soul "holy reverence" as well as "holy confidence" in prayer.21 Regarding the Spirit's work of instilling reverence in the heart, Boston said, "By this view he strikes us with holy dread and awe of the majesty of God, whereby is banished that lightness and vanity of heart, that makes such flaunting in the prayers of some."22 Although reverence is essential, faith or confidence in prayer is also necessary, for "without this there can be no acceptable prayer," said Boston, alluding to Hebrews 11:6 and James 1:6. And, as all else needful in prayer, the Spirit supplies this. The Spirit "helps the soul to approach with confidence, and yet with reverence," said Clarkson, "with filial fear, and yet with an emboldened faith; with zeal and importunity, and yet with humble submission; with lively hope, and yet with self denial."23
Manton spoke of the Spirit helping us approach God in prayer with childlike reverence and confidence.24 He asserted, "Our familiarity with God must not mar our reverence, nor confidence and delight in him our humility."25 The presence of this confidence in prayer is a proof of the Spirit's help. It reflects His "ability and willingness to help," said Boston, "the Spirit exciting in us holy confidence in God as Father."26 And as Manton reminded us, "A great part of the life and comfort of prayer consisteth in coming to God as a reconciled father,"27 which is the Spirit's work, as seen in passages like Romans 8:15 and Galatians 4:6. Richard Sibbes (1577–1635) said, "[The crying as a son] comes from the Spirit. If we be sons, then we have the Spirit, whereby we cry, Abba, Father. So, if we can go to God with a sweet familiarity, Father, have mercy upon me, forgive me;…this sweet boldness and familiarity, it comes from the spirit of liberty, and shews that we are sons, and not bastards."28
There are many things that we need to be reminded of in prayer, but surely the most essential thing is the promises of God found in Scripture. Prayer is dependent upon the promises, for by them we are assured that our prayer will be accepted. The promises are so foundational to prayer that without them, "the sinner, pressed with a sense of need, has nothing to support him, and therefore cannot pray in faith."29 Owen stated that ignorance of the promises of God is one of the reasons why "men are so barren in their supplications."30 Thankfully, this is one of the chief ways in which the Spirit helps us in prayer.
The heart of all the promises is Christ our Mediator. If the Spirit did not give us a view of Christ, He would be, as Boston said, "a hidden beauty to us."31 This help is to "point us to the only way of acceptance of our prayers…. He teaches us to pray as we ought, and so to pray in the name of Jesus Christ, depending on his merit and intercession."32
Informing Our Prayers with the Knowledge of Our True Needs
John Flavel (1628–1691) wrote that the Spirit within believers is "teaching them what they should ask of God."33 The Holy Spirit "shows them their need, what their wants are; he stirs them up to prayer, he supplies them with arguments, puts words into their mouths," as Gill said.34 The Spirit helps by "opening the eyes of the mind to discern the wants and needs we are compassed with," wrote Boston.35 He helps us remember matters to be prayed for but not merely to be mentioned in prayer, for the Spirit also "impresses us with a sense of need," said Boston, so that we also "pray feelingly, that the tongue does but express what the heart feels."36 As a result, we become sincere in our prayers, importunate, and specific as to the requests, praises, and thanksgivings.37
We who address a holy God must remember our state of sin and lowliness. As Boston said, we easily "lose sight of our sinfulness,"38 but the Spirit helps us by revealing our hearts to us. The Spirit works to "fill us with low thoughts of ourselves before him," said Boston, which "makes us see ourselves unworthy of the mercies, that either we have got, or desire to have." Such a view of ourselves "fits us for the receipt of mercies of free grace; and the want of it makes sinners to be in their prayers, as if they came to buy of God, and not to beg, and so to be sent empty away."39
The Spirit's work to give us a right view of God, Christ, and ourselves is intertwined. Boston showed how a correct view of God and of oneself inevitably lead to sincere confession of sin, true thanksgiving for God's mercies, and a high valuing of Christ.40 We need humility to see the preciousness of Christ (Ps. 69:32), and "the higher the Mediator is [valued], the more fit one is to pray."41 The right view of ourselves is always related to the right view of God, as Manton reminded us: "Serious dealing with God in prayer is wrought in us by the Spirit, in whose light we see both God and ourselves, his majesty and our vileness, his purity and our sinfulness, his greatness and our nothingness."42 William Gurnall (1616–1679) wrote that the Spirit "excites the saint's fear, filling it with such a sense of God's greatness, his nothingness and baseness, as makes him with awful thoughts reverence the divine majesty he speaks unto, and deliver every petition with a holy trembling upon his spirit."43
____________________________________
13. Traill, Works, 1:73.
14. David Clarkson, The Works of David Clarkson (Edinburgh: The Banner of Truth Trust, 1988), 3:207.
15. Boston, Works, 11:21.
16. Ibid., 11:45.
17. Ibid., 11:44.
18. Bunyan, The Doctrine of the Law and Grace Unfolded, 247.
19. Ibid., 249.
20. Owen, Works, 4:291.
21. Boston, Works, 11:62.
22. Ibid.
23. Clarkson, Works, 3:209–210.
24. Manton, Works, 12:234.
25. Ibid.,12:234–35.
26. Boston, Works, 11:62.
27. Manton, Works, 12:234.
28. Richard Sibbes, The Works of Richard Sibbes (Edinburgh: The Banner of Truth Trust, 2001), 4:233.
29. Ibid., 4:65.
30. Owen, Works, 4:282.
31. Boston, Works, 11:66.
32. Ibid.
33. John Flavel, The Works of John Flavel (Edinburgh: The Banner of Truth Trust, 1997), 2:339.
34. Gill, Exposition, 8:492.
35. Boston, Works, 11:63.
36. Ibid., 64.
37. Ibid.
38. Ibid., 11:62.
39. Ibid., 11:63.
40. Boston, Works, 11:63.
41. Ibid.
42. Manton, Works, 12:235.
43. William Gurnall, The Christian in Complete Armour (Edinburgh: The Banner of Truth Trust, 2002), 2:489.
Published by The Banner of Sovereign Grace Truth, used with permission.