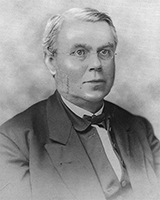 Thomas Murphy
The pastor should cultivate his piety by preaching to himself.
"Thou, therefore, which teachest another, teachest thou not thyself?" is the scriptural rebuke for neglecting this duty. When the preacher delivers the message of God, he should never separate himself from his audience as if he were not addressed. He needs the communications of grace just as much as his congregation does. His own experience of wants, of sins, of trials and of blessings should be wrought into his discourses. His own faults should be kept in view, and rebuked as sharply as those of his audience. Diligently should he listen for the voice of God as addressed to his own particular case, and then reiterate that voice from the sacred desk. This rule, given by another, should ever be his guide: "In your preparations for the pulpit endeavor to derive from the subject on which you are about to preach that spiritual benefit you wish your hearers to receive."
It is well for the minister to study his own particular wants in every sermon that he preaches. He should question himself, What are my most grievous short-comings? What are my besetting sins? What are the deficiences in my Christian character? What hinderances do I find to my progress in grace ? To what higher degrees of spirituality am I desirous of attaining? What more good might I do in the kingdom? These and similar questions to self would give far more directness of aim to his discourses. He may depend on it that his own wants and those of his people are very similar. Then, if his discourses arise out of his own experience, and are shaped so as to meet his own wants, they will assuredly also be applicable to the great body of his Christian people.
The soul of the minister will almost necessarily grow in grace under such a process. Its own great interests will not be neglected through exclusive care for others; its prevailing maladies will be detected; it will be kept alive, and the proper spiritual nourishment will be given it, When every sermon is faithfully brought home to the preacher's own heart, he must advance in purity, in vigor, in knowledge and in every other grace. Perhaps not perceptibly, but very surely, will he make progress from year to year.
Nothing could have a better effect in preserving from a perfunctory mode of preaching than this self-application of the sermon. As in every other profession, the minister is in danger here. To see a man preaching as a mere thing of rote is a very sad sight indeed. There is nothing more heartless or repulsive. It is scarcely possible for such preaching to do any good or not to disgust. But when the preacher keeps his own case vividly before him in what he is saying, then he must be interested, and consequently interest others. Then he appears riot as one above them. He is not patronizing, but he is one with his audience, and enters with them into all their troubles for sin and into all their joys for deliverance through Christ.
This habit will without doubt intensify the earnestness of one's preaching. It must quicken the sensibilities, and awaken to keenness of thought about the great spiritual wants of the soul. Then in the proclamation of the gospel the pastor will have all the ardor that can be produced by the serious thought that his own interests are at stake. He cannot be indifferent with the conviction pressing upon him that life or death is the issue he cannot be cold and formal.
The thought is well presented by the devout Leighton: "It is a cold, lifeless thing to speak of spiritual things upon mere report; but they that speak of them as their own, as having share and interest in them, and some experience of their sweetness, their discourse of them is enlivened by firm belief and an ardent affection; they cannot mention them but their hearts are straight taken with such gladness as they are, forced to vent in praises." Then the preacher must preach in sympathy with the people, and his sighs and his tears and his joys mingle with theirs.
The pastor should look upon this rule of preaching himself in all his sermons as one of very great moment. It is important for his own sake, it is important for his people s sake, that he should preach every sermon to himself as one of the chief auditors. He should do this even when he is addressing the impenitent, for their hearts and his are by nature alike, and the gulf from which he would draw them is the gulf from which he has only narrowly escaped himself. After preaching, the sermon should rest deeply in his own thoughts, and its influence upon his spiritual life be anxiously looked for. "In what am I better or more resolved in my Christian calling?" is a question he should very thoughtfully ask. The minister cannot do without this preaching to himself, for ordinarily he has no other to preach to him, and his soul will suffer without this culture.