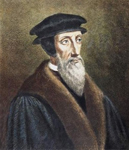 John Calvin
"For to us a child is born,
to us a son is given;
and the government shall be upon his shoulder,
and his name shall be called
Wonderful Counselor, Mighty God,
Everlasting Father, Prince of Peace.
Of the increase of his government and of peace
there will be no end,
on the throne of David and over his kingdom,
to establish it and to uphold it
with justice and with righteousness
from this time forth and forevermore.
The zeal of the Lord of hosts will do this."
Isaiah 9:6-7
A child is born. The Jews twist this passage and interpret it as relating to Hezekiah, though he had been born before this prediction was uttered. But Isaiah speaks of it as something new and unexpected; further, it is a promise, intended to arouse believers to the expectation of a future event. Therefore, there can be no hesitation in concluding that he is describing a child who was yet to be born.
Wonderful Counselor. Notice that these titles are not alien to the subject but are adapted to the case in hand, for the prophet describes what Christ will show himself to be toward believers. The redemption he has brought surpasses the creation of the world. It amounts to this: The grace of God, which will be exhibited in Christ, exceeds all miracles.
The Redeemer will come endowed with absolute wisdom. Let us remember that the prophet does not here reason about the hidden essence of Christ but about the power he displays toward us. It is not, therefore, because he knows all his Father's secrets that the prophet calls him Counselor, but rather because he is in every respect the highest and most perfect teacher. All that is necessary for salvation is opened up by Christ in such a way and explained with such familiarity that he addresses the disciples no longer as servants but as friends.
He is called Mighty God for the same reason that in Isaiah 7:14 he was called Immanuel. If in Christ we find nothing but human flesh and nature, our glorying will be foolish and vain, and our hope will rest on an uncertain and insecure foundation. But if he shows himself to be to us God, even the Mighty God, we may rely on him with safety. It is good for us that he is called strong or mighty because our contest is with the devil, death, and sin (see Eph. 6:12), enemies too powerful and strong, by whom we would be vanquished immediately if Christ's strength had not made us invincible. Thus we learn from this title that there is in Christ abundance of protection for defending our salvation, so that we desire nothing beyond him; he is God, who is pleased to show himself strong on our behalf. This application may be regarded as the key to this and similar passages, leading us to distinguish between Christ's mysterious essence and the power by which he has revealed himself to us.
The name "Father" is used to mean "author" because Christ preserves the existence of his church through all ages and bestows immortality on the body and on the individual members. We ought, therefore, to elevate our minds to that blessed and everlasting life that as yet we do not see but that we possess by hope and faith (see Rom. 8:2).
Prince of Peace. This is the last title, and by it the prophet declares that the coming of Christ will be the cause of full and perfect happiness, or at least of calm and blessed safety. The Hebrew word for peace often signifies prosperity, for of all blessings none is better or more desirable than peace. The general meaning is that all who submit to Christ's dominion will lead a quiet and blessed life in obedience to him. Hence it follows that life without this King is restless and miserable.
But we must also take into consideration the nature of this peace. It is the same as that of the kingdom, for it resides chiefly in the conscience; otherwise we must be engaged in incessant conflict and liable to daily attacks. Not only, therefore, does he promise outward peace but that peace by which we who were God's enemies return to a state of favor with him. Justified by faith, says Paul, we have peace with God (see Rom. 5:1).
Of the increase of his government and peace there will be no end. Isaiah begins to explain and confirm what he said before (Christ is the Prince of Peace) by saying that his government extends to every age and is perpetual; there will be no end to the government or to peace. This was also repeated by Daniel, who prophesies that Christ's kingdom is an everlasting kingdom (see Dan. 7:27). Gabriel also alluded to this when he carried the message to the virgin Mary; and he gave the true exposition of this passage, for it cannot be understood to refer to anyone but Christ. He shall reign, says the angel, over the house of Jacob forever, and of his kingdom there shall be no end (see Luke 1:33). We see that the mightiest governments of this world are unexpectedly overturned and suddenly fall, as if they had been built on a slippery foundation.
To government he adds the eternity of peace, for one cannot be separated from the other. It is impossible for Christ to be King without also keeping his people in calm and blessed peace and enriching them with every blessing. But since they are exposed to innumerable attacks every day and are tossed and perplexed by fears and anxieties, they ought to cultivate that peace of Christ (see Phil. 4:7), so that they might retain their composure amid the destruction of the whole world.
He will reign on David's throne and over his kingdom. David was promised that the Redeemer would spring from his seed (2 Sam. 7:12-13); his kingdom was nothing but an image or faint shadow of that more perfect and truly blessed state that God has determined to establish by the hand of his Son. The prophets remind the people of that remarkable miracle by calling Christ the Branch of David (Jer. 33:15).
When Isaiah writes, "Establishing and upholding it with justice and righteousness from that time on and forever," the words justice and righteousness do not here refer to outward affairs of state. We must observe the analogy between the kingdom of Christ and its qualities; being spiritual, it is established by the power of the Holy Spirit. In a word, all these things must be viewed as referring to the inner person—that is, when we are regenerated by God to true righteousness. It is true that outward righteousness follows, but it must be preceded by the renewal of mind and heart. We are not Christ's, therefore, unless we follow what is good and just and bear on our hearts the stamp of that righteousness that has been sealed by the Holy Spirit.
Content taken from Come, Though Long-Expected Jesus edited by Nancy Guthrie, © 2008. Used by permission of Crossway, www.crossway.org.