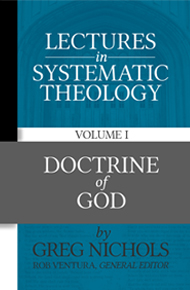 by Greg Nichols, edited by Rob Ventura
*Available on March 1st in Trinity Book Service
Special offer during the month of March, while supplies last.
____
So the Lord said to Moses, "I will also do this thing that you have spoken; for you have found grace in My sight, and I know you by name." And he said, "Please, show me Your glory" (Exodus 33:17-18).
Moses hungered to see God's glory. He pleaded: "Show me, I pray you, your glory." This should be our prayer as we study the doctrine of God. Reverent hunger to see God's glory should motivate us. We must hunger to see the glory of his existence, knowledge, nature, names, and decree. We must hunger to know God and thirst after the knowledge of God. Further, the Lord promised to give Moses the desire of his heart: "I will make all my goodness pass before you, and will proclaim the name of Jehovah before you." God also fulfilled this promise. When we come to God with reverent hunger, he will fill our hearts with the knowledge of himself. He will not disappoint us. He will surely show us his glory, and satisfy us with the display of his Name. …We should not approach the doctrine of God with a critical spirit, or as a philosophical quest with a hunger for speculation. If any course in systematic theology should evoke spiritual hunger, this one should. The doctrine of God should never be dull, or dry, or speculative, or philosophical. It should pulse with spiritual life and hunger. Let's approach this subject with Moses' disposition. (Excerpt from the book)

Table of Contents
Acknowledgements
Preface
Abbreviations
Outline
Prologue: Introduction to Systematic Theology
Introduction: Overview of the Doctrine of God
Part 1: The Existence of God
Part 2: The Knowledge of God
Section 1. The Knowability of God
Section 2. The Incomprehensibility of God
Part 3: The Nature of God
Introduction to Part 3: Overview of God's Nature: Simple, Supreme, and Spiritual
Division 1: God's Supreme Being: God's Existential Attributes
Section 1. God's Ideal Being: Ideality
Section 2. God's Self-Existent Being: Aseity and Independence
Section 3. God's Infinite Being: Spatial Supremacy
Section 4. God's Eternal Being: Temporal Supremacy
Section 5. God's Unchangeable Being: Immutability
Division 2: God's Supreme Spirituality: God's Spiritual Attributes
Section 6. God's Incorporeality: The Majestic Form of God
Section 7. God's Animacy: The Vivacity and Omnipotence of God
Section 8. God's Faculty
Unit 1. God's Supreme Mind: The Omniscience of God
Unit 2. God's Supreme Will: The Sovereignty of God
Unit 3. God's Supreme Affection: The Emotivity of God
Section 9. God's Morality: The Supreme Virtue of God
Introduction: God's Moral Capacity and Character: Overview of God's Supreme Virtue
Unit 1. The Goodness of God
Unit 2. The Holiness of God
Unit 3. The Justice of God
Unit 4. The Faithfulness of God
Conclusion: God's Self-Esteem: God's Consciousness of his Supreme Virtue
Section 10. God's Personality: The Trinity
Part 4: The Names of God
Part 5: The Decree of God
Conclusion to the Doctrine of God

About the Author
Greg Nichols has been pastoring and teaching systematic theology for over three decades. Greg formerly taught at Trinity Ministerial Academy in Montville, New Jersey and now teaches for Reformed Baptist Seminary. He has also taught modular courses throughout the United States and in the Dominican Republic, the Philippines, the United Kingdom, and Columbia. Since 1994 he has been a pastor at Grace Immanuel Reformed Baptist Church in Grand Rapids, Michigan, where he lives with his wife Ginger.
Rob Ventura, the General Editor of this new series of Theological Volumes, writes, "I'm excited to announce that the long-awaited theological works of Greg Nichols will be coming out soon. We hope to have the first of seven volumes ready by December this year or by January next year. If you would, please keep the project in prayer. See the endorsements below we have already received –


Endorsements
"I have waited for 20 years to see these lectures finally delivered to us in book form. Though Greg Nichols has evidently interacted with the great Systematic theologians of the past, the contents of these pages are no mere echoes of a bygone era. He has used his gifts and applied his mind in his vintage years to build on this historic foundation and bequeathed to the church a Systematic Theology that is both biblically based and historically fresh. If these are the first fruits, I wonder what the other volumes will be like!" -Dr. Conrad Mbewe, Chancellor of the African Christian University and Principal of the Lusaka Ministerial College in Lusaka, Zambia
"In a day full of light books, Greg Nichols has given us a treatment on the attributes of God in a manner so thoroughly Biblical as to establish the adoration of our Lord upon the firmest of foundations. Here we find gems worth mining. Here is solid nourishment for the head and heart of every hungry believer." – John Snyder, Christ Church, New Albany, Mississippi, Authored 'Behold Your GodÆ, PhD. Trinity St. David's, University of Wales
______________
Available at Trinity Book Service on March 1st.
Read A Review of Lectures in Systematic Theology, Volume 1, The Doctrine of God .